We Only Deliver the Best!
Dedicated Team
Our dedicated team is comprised of talented professionals passionate about their work and committed to providing the best service.
Free Estimates
At Mountain Home Shine, our free estimates provide a no-obligation way to get a quote for our services.
Reliable Services
Our reliable services at Mountain Home Shine are designed to provide you with the highest quality customer experience.
Affordable Pricing
Our affordable pricing makes it easy for everyone to access our products and services at Mountain Home Shine.
Our Pressure Washing Services Are As Easy As
Get In Touch
If you have any questions, please get in touch with us. We're happy to help you with any queries you may have.
Schedule An Appointment
Mountain Home Shine provides free estimates, so schedule an appointment today to get yours!
We Take Care Of You
Our team will ensure that your property is in safe hands. We will provide you with the best care and ensure results.
Mountain Home Shine pressure washing does excellent work. Very dependable and trustworthy. I would highly recommend their services!
- Nathan, B

Michael did a wonderful job! Our house looks so good, and the windows are sparkling. He was the only business, of this type, that acknowledged and returned my call. He did everything he said he would do, from the first phone call, until the job was completed. Highly recommend! Thank you, Michael!
- Pamela, C

Micheal done a great job! We just moved into an older house that had been sitting for quite some time. It looks great. He is professional and very reasonably priced. Will be using this company again for sure!!!
- Carrie, L

Mountain home shine came out when they said they would. Completed our home in a few hours and the results were as promised. We were very satisfied with the job they did and will have them back out when the time comes.
- Joel, S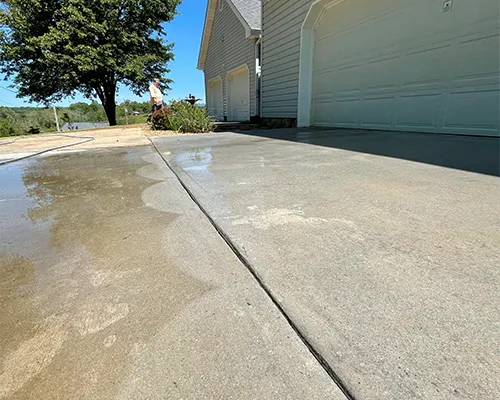 Pressure Washing
Pressure washing is a safe and efficient way to restore the original look of your exterior surfaces. 
House Washing
House washing can be a tedious task, but it is necessary to maintain the beauty and longevity of the home.
How Can We Best Help You!
100% Customer Satisfaction
Persinalized Customer Service
Why Choose Mountain Home Shine?
Mountain Home Shine offers exceptional services at competitive prices. With a wide range of services, we can meet the needs of any customer. From window cleaning and gutter cleaning to pressure washing, we provide top-notch services that will leave any home looking its best.
Safe And Effective
Our team is thoroughly trained and certified in safe practices.

Quality Results
We use high-quality equipment to ensure the best results.
Latest Technology
We use the latest technologies for your project.
Fully Insured
We are fully insured, giving you peace of mind.
Locally -Owned
We are locally owned, providing services to the community.
Variety of Services
We offer various services so that you can choose the best option.
Mountain Home Shine provides comprehensive services to help homeowners maintain their homes. Mountain Home Shine's services offer many benefits to their customers, including saving time, preventing costly repairs, and improving home comfort. Mountain Home Shine also offers exterior cleaning and restorations to restore a home to its original condition, make your home look more attractive, increase its value, and improve its overall performance. Another benefit of the services provided by Mountain Home Shine is personalization.
Mountain Home Shine listens to the homeowner's needs and provides services tailored to their individual situation. This helps ensure the customer's needs and our services are done correctly. Mountain Home Shine offers many benefits to homeowners and renters. Their preventative maintenance and inspection services help save time and money, while their repairs and restorations can improve a home's appearance and performance. 
Contact us today to schedule your free estimate and learn more about our services.
We are Committed To your 100% Satisfaction
Mountain Home Shine is committed to providing 100% customer satisfaction with every job we do. We strive to offer quality results, customer service, and a pleasant customer experience. We understand that every customer is unique and has different needs and expectations.
Pressure Washing Services in Bristol, TN
Mountain Home Shine is a leading professional pressure washing company based in Bristol, TN, serving both residential and commercial clients. With their team of highly skilled technicians and state-of-the-art equipment, they provide top-notch pressure washing services that are designed to transform the appearance of any property, leaving it sparkling clean and looking brand new.
One of the primary pressure washing services offered by Mountain Home Shine is exterior house washing. Over time, dirt, grime, mold, and algae can accumulate on the exterior surfaces of homes, making them look dull and unattractive. Mountain Home Shine uses high-pressure and environmentally-friendly cleaning solutions to safely remove these contaminants from the siding, brick, stucco, and other exterior surfaces of homes, restoring their original beauty and enhancing their curb appeal.
Removes dirt, grime, and stains to improve home curb appeal.
Kills mold and mildew, reducing the risk of harmful toxins.
Sanitizes outdoor surfaces to create a cleaner environment.
Maintains cleanliness, which promotes your family's health.
Here's How You Can Count On Us At Mountain Home Shine
Pressure Washing Done Right!
In addition to house washing, Mountain Home Shine also offers deck and patio cleaning services. Decks and patios are prone to dirt, moss, algae, and other stains due to constant exposure to the elements. Mountain Home Shine uses specialized pressure washing techniques to clean and revitalize decks and patios, removing grime and stains without causing any damage to the wood or other materials.
Mountain Home Shine also provides concrete cleaning services. Driveways, sidewalks, and other concrete surfaces can accumulate dirt, oil stains, mold, and other contaminants over time, making them look unsightly. Mountain Home Shine uses high-pressure hot water and cleaning solutions to effectively clean concrete surfaces, restoring their original appearance and improving the overall aesthetics of the property.
Enhances the aesthetic appeal of a home's architecture.
Prevents premature fading of paint.
Cuts through dirt-encrusted surfaces safely and conveniently.
Extend the life of your home's exterior more effectively.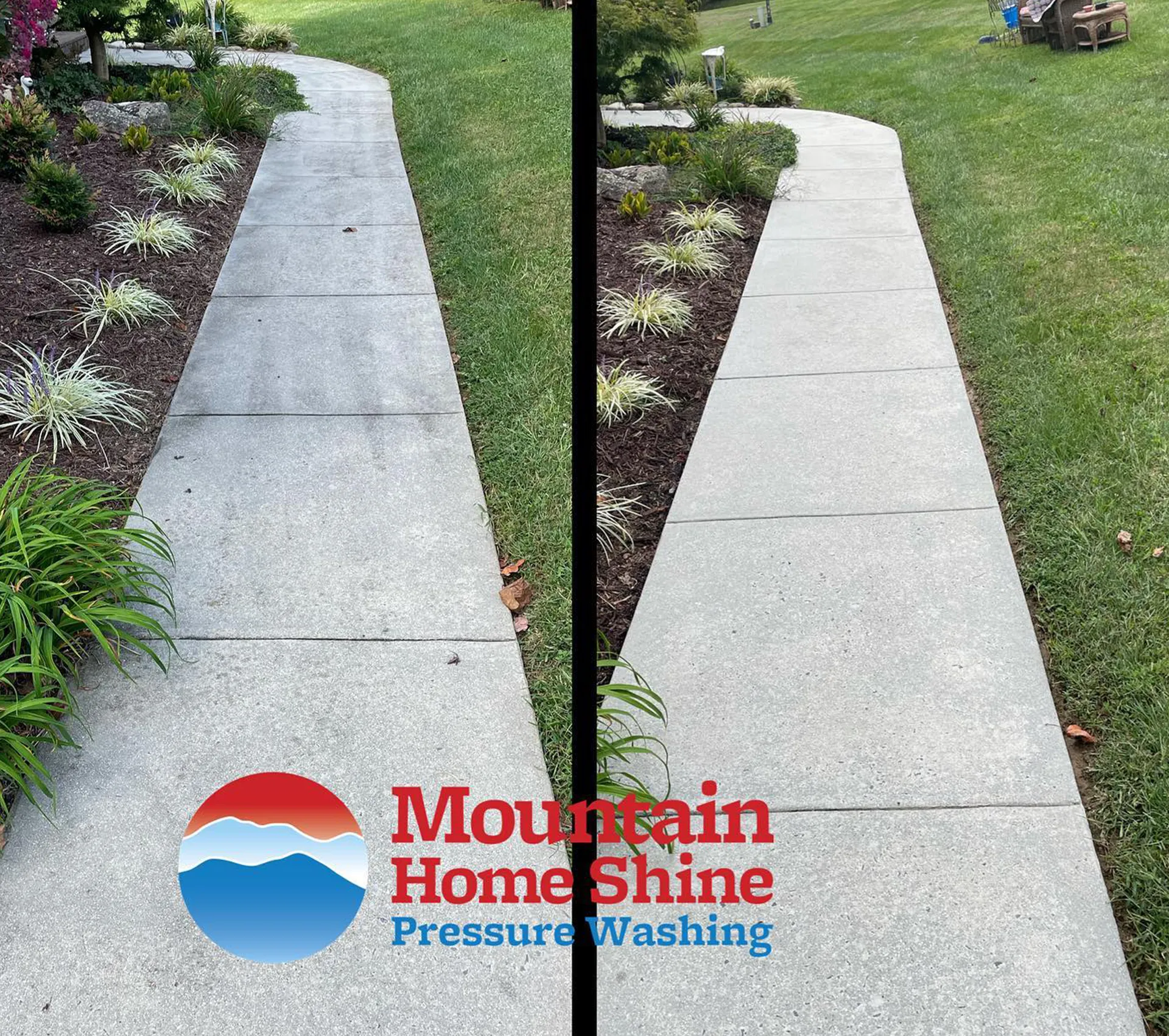 Be The Talk Of The Neighborhood
Furthermore, Mountain Home Shine offers commercial pressure washing services for businesses in Bristol, TN. They understand that commercial properties require regular maintenance and cleaning to uphold their professional image and attract customers. Their team of experts is trained in handling commercial-grade equipment and cleaning solutions to effectively clean a wide range of surfaces, including storefronts, parking lots, sidewalks, and more.
Mountain Home Shine is known for their commitment to customer satisfaction and their attention to detail. They prioritize the safety of their customers' property and the environment by using eco-friendly cleaning solutions and following industry best practices. Their team is licensed and insured, and they take pride in delivering exceptional results that exceed their clients' expectations
Restores grip on slippery surfaces like driveways.
Makes it easier to spot potential maintenance issues.
Can clean hard to reach places.
Restores a smooth texture to surfaces.
# 1 Concrete Cleaning Services
Mountain Home Shine takes pride in providing high-quality concrete cleaning services, including top-notch driveway cleaning, to the residents of Bristol, TN. Their team of skilled technicians utilizes specialized pressure washing techniques and environmentally-friendly cleaning solutions to effectively clean and restore concrete surfaces, leaving them looking fresh and renewed.  Driveways are one of the most heavily used areas of a property and can accumulate dirt, oil stains, mold, mildew, and other contaminants over time, which can detract from the overall appearance of the property. Mountain Home Shine understands the importance of a clean and well-maintained driveway in enhancing the curb appeal of a home or business. Their professional driveway cleaning services are designed to remove stubborn stains and grime from concrete surfaces, giving them a new lease on life.
High-Quality Driveway Cleaning 
Using high-pressure hot water and advanced cleaning equipment, Mountain Home Shine's technicians are able to effectively clean driveways of all types, including concrete driveways, paver driveways, and asphalt driveways. They carefully assess the condition of the driveway and determine the most appropriate pressure washing techniques and cleaning solutions to use, ensuring that the cleaning process is thorough and safe for the surface. Mountain Home Shine's driveway cleaning process is tailored to provide outstanding results without causing any damage to the concrete surface. Their team takes meticulous care to remove dirt, oil stains, mold, and other contaminants, leaving the driveway looking fresh and clean. They pay attention to details such as edges, corners, and crevices to ensure a thorough and uniform clean.
About Bristol, TN
City of Bristol, Tennessee
Area:
Local Time:
Mayor:
Weather:
Population:
Things To Do in Bristol, TN